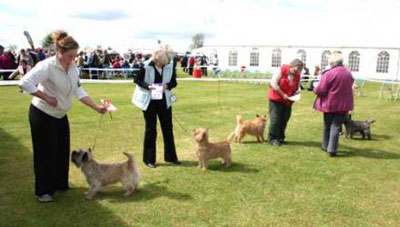 Mary og Uzi har været på udstilling i Bath, England med følgende resultat:
2. Open dog Middlehurst's.
Zalazar Unzipped! At Starveren
.
Red, very good order, a little short of coat but nice outline, good length of back and tailset. Very showy, moved well.
Uzi's datter
Cannwood Danish Affair
vandt junior tæve med flg. kritik:
Wheaten, well made bitch this one, nice head, correct bite, good neck and shoulders, level topline, correct double coat of good texture, moved well fore and aft.
Dommer: Ian M Kettle
Photo: Alan Firth
Se alle resultater
her