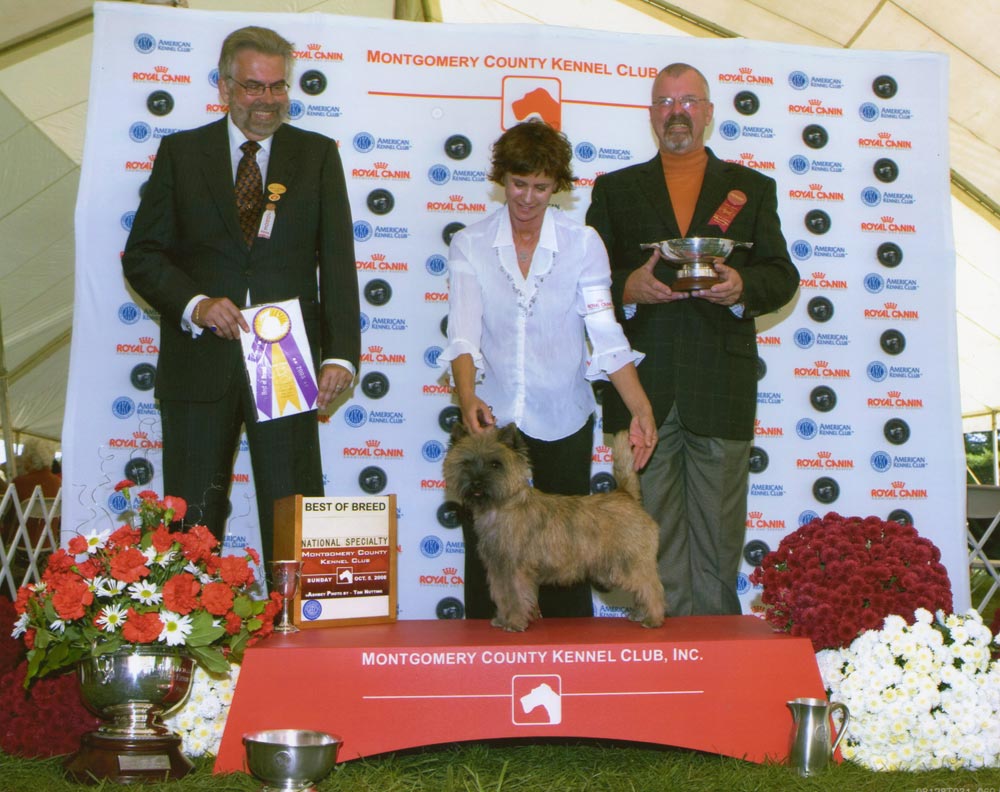 Way to go, Suzee!!!


Zalazar Walk The Line

, ejet og handlet af Suzee Bidegain,

blev BIR samt trukket ud blandt de sidste 7 i BIS konkurrencen på den prestigefulde CTCA National Specialty - Montgomery County Kennel Club
Racedommer James Reynolds
Tilmeldte: 145 Cairns
Se resultater her

Uddrag af dommer James Reynolds Critique fra MCKC:



Almost immediately I realized that I was going to be back at the issue of size when I went over Ch. Zalazar Walk the Line, a dog which I had never seen before. This is a stallion of a dog with a gorgeous, head, eye, and bone. He is dead sound with a topline which is a delight and a bang-up tail which he never stops carrying up and showing. He would emerge as BOB, looked fantastic in the BIS ring and made the cut. Later a judge from England approached me and told me that he had made him best in Stockholm at the World Cairn Show this year—quite a year for an eighteen month old dog.
Fotos af
Corine Welsch
, Jan Morgen, Robin Balcerak & Tinna Grubbe
Dommer James Reynolds Critique fra MCKC:


It was a great pleasure and honor to judge the CTCA national specialty and was the third time that I have had this privilege. I thought that the quality of the dogs was the highest that I have seen. Presentation and showmanship was excellent. Amateur handlers can meet and rival the professionals in presentation which makes for a much more level playing field. Except for puppies being puppies everyone was exceptionally well behaved and I only found one or two mouths which could have been slightly better but not an issue. On the whole coat texture was excellent and there were many, many lovely heads with proper ear set, breadth of skull, stop and eyes both in placement and colour. On the whole I thought body proportions were good with very few short-legged dogs shown but I suspect that many knew my feelings on this point. There were still problems with fronts, short upper arms, rather upright shoulders and lack of forechest. These issues were reflected in the movement both coming and from the side. Top lines were very good, as was rib spring. A few were a little long in loin but not enough for me to see it as a problem. Tail sets were for the most part good. I found some straight stifles and some rather erratic rear movement as a result. Temperaments were fantastic.

I am certain that some of the spectators went away questioning the issue of size. Although my favorite Cairn was a tall dog, Eng. Am. And Can. Ch. Lofthouse Davey, I really do prefer a more moderate dog and really didn't expect this to be an issue as I set about the assignment. I had some very lovely dogs throughout the classes and had several to whom I would have been delighted to award Winners and then I came to Open Dog and Counterpoint Christopher Robin. He is not a small dog but as I worked my way through his many, many virtues I could not find anybody to touch him. Lovely head and eye, great neck, firm topline. Tail always on top, moved exceptionally well both coming, going and from the side. Judging is about virtues and in my opinion he could not be matched by his competitors on the day and so emerged with W.D. to be followed by the second in open, Aftonshire's Dominic, another lovely dog with a great head and eye, good coat and showmanship not quite as good on the move but a lovely balance and size.

Bitches are always my delight and from the moment the baby puppy bitch winner, Skerryvore Against the Wind came in the ring I knew I was in for great time. In most classes my top two could have changed at anytime. In the end WB. Quarrydene's Black Diamond came from the Bred By Class . A lovely wheaten brindle bitch, lovely head and expression, great coat, good topline and legs, non stop showmanship. She was from the same kennel as my 1st in Bred By Dogs and together they made a fantastic brace as they are spittiing images of one another and yet at least in the first generation are not related. They would get fourth in Brace in Show but to my prejudiced eye could have gone further. My RWB was a heart stealer and almost did it just on my feelings. A lovely red bitch from the 12-18, Hampton Court's Ashley. Beautiful showman and mover, great expression. She is a little overweight and has a rather full coat which didn't help her proportions when you looked at her in profile but could reverse with the winner any day.

After lunch my specials came in the ring and once again anyone watching who loves the breed must have taken great pride in the impact of these great Cairns in the ring. Once again I knew many of the dogs from past shows and so was rather interested to see how the class would proceed. Almost immediately I realized that I was going to be back at the issue of size when I went over Ch. Zalazar Walk the Line, a dog which I had never seen before. This is a stallion of a dog with a gorgeous, head, eye, and bone. He is dead sound with a topline which is a delight and a bang-up tail which he never stops carrying up and showing. He would emerge as BOB, looked fantastic in the BIS ring and made the cut. Later a judge from England approached me and told me that he had made him best in Stockholm at the World Cairn Show this year—quite a year for an eighteen month old dog. B.O.S. was a lovely back brindle bitch, Ch. Terriwood Mojo. Much more in line with what I usually reward in size and appearance, very sound, and appealing with great coat texture. B.W went to the Winners dog who made a rather fantastic appearance when I brought him out with my BOB.

Once again it was a beautiful day and I thank the membership for the opportunity.

James G. Reynolds