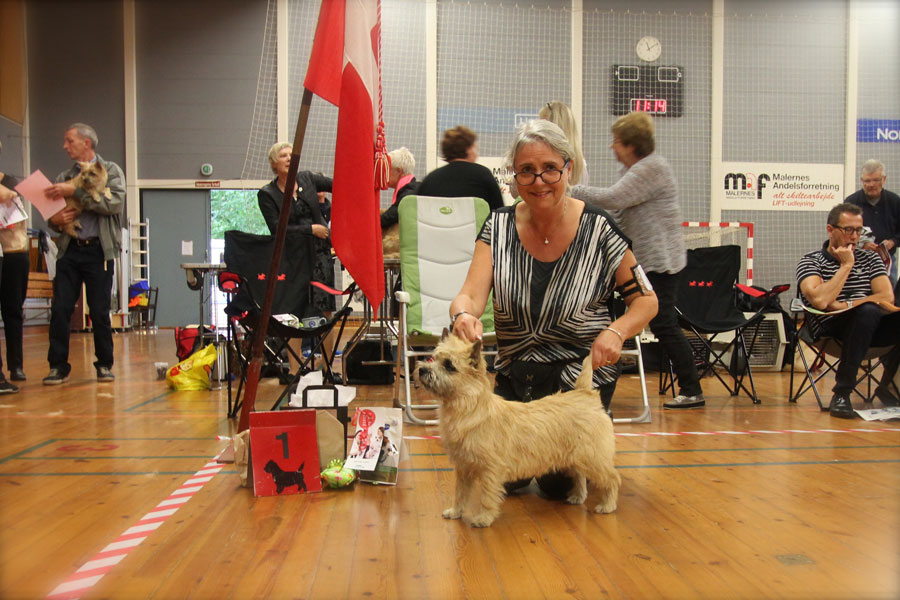 August 30th we went to the Cairn Terrier 90th anniversary show in Silkeborg. We participated with the two puppies Zalazar New Wave / Lui & Zalazar New Dawn / Dawny and Zalazar Kong Arthur og Zalazar Mai Tai.
Judge was Ann Waugh, Kennel Tribannon, GB, who came for Sue Dolan, who had become ill.

First dog in the ring was Lui with his owner John. Both were debutants but they did very well and Ann Waugh was very fond of Lui, who finished no.2 with SL and a good critique. Then it was Dawny's turn and she was just a little more experienced and ended up as BIS puppy. Dawny is after Thestrup's It Takes Two Baby & Kramer's Be The One That I Want. Arthur came into the ring in intermediate class, where he was placed #2 with ex and ck.
Finally it was Maia's turn and she behaved reasonably well, showede nice and won her class and ended up being 2. best bitch with CC.
The evening ended with a lovely dinner party and we are already looking forward to the 100th anniversary in 2024.