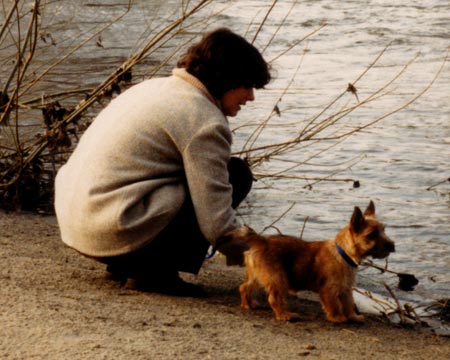 Our first Cairn Terrier Kibbo Kift Tresco Teddy who we named ¨Jensen¨ (19.9.1981 - 26.7.1995) was purchased from Tove Lundby. About one year later we got his mother Kibbo Kift Tresco Tippy Toes (23.9.1978 - 24.4.1990). Another year went by and in the worst snowstorm we arrived home with a male puppy Jonas (18.11.1983 - 10.7.1998).
The first time we participated in a dog show was with Jensen at the Danish Terrier Clubs now departed Spring Open Show on March 6, 1983. The judge was Hanne Laine Jensen and Jensen was BOB ! Jonas had his debut at the Chantelou show in Bolbro, April 1, 1984, where he was BEST BABY and BEST IN SHOW BABY 2. The Judge was Wibeke Steen of Germany and she gave him this critic:
"Nice promising puppy, good head and expression, nice temperament, good mover with correct coat."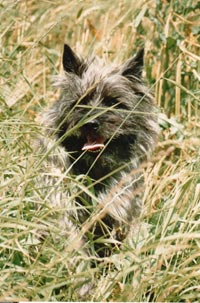 At the Cairn Terriers 60th Year Anniversary Show in Odense 12.8.1984 with Charlotte Dixon as the judge, we showed both Jonas & Jensen. Jonas got the following critic:
"Most promising, quality coat, nice dark points, would like a broader skull and more stop, nicely proportioned and a good mover."
Jonas career as a show dog was short lived due to a rather large overshot jaw ;-(
Jensen kept showing a bit over the next few years under judges like Hazel Small, Tom Horner, Ferelith Hamilton (now Sommerfield), Judith Parker Tucker & M.M. Madsen. Jensen's last show was as a senior under Anne Marie Kolbe in Germany, 1988 with this critic:
"Still full of fire, moving and standing, showing off his good points, very sure of himself and in very good condition."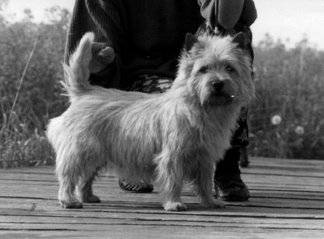 In March 1985, I started my apprenticeship as a dog trimmer under Peter Hage, "Doseringens Hundebad", a top trimmer & handler of Terriers in Denmark and Europe. Peter was married to Helle Lund Christensen, Kennel Cairndy, who also had a grooming salon in Helsingør. At that time Helle had been grooming our dogs. It was through Helle & Peter we purchased our first breeding bitch Cairndy Iltre Ida (17.12.1985 - 22.3.1999).
Ida started her show carrier winning best young dog with certificate, BOB 4 and BIS Junior. She never became a champion but did become a very good breeding bitch. Ida was the mother of our first homebred champion dkch vwsg91 Zalazar Arrige Alice (09.03.1989-17.08.1997). She was also the mother of Zalazar Bedårende Bas Viola (26.10.1989 - 18.6.2005) who, just a month before her 15th Birthday, participated in the Cairn Terrier Clubs 80th year anniversary show in September 2004. Scooter, as we called her, was a wonderful and highly appreciated puppy educationalist! Scooter was the mother of Zalazar Eddie The Eagle and Zalazar Grace Kelly who had respectively 2 & 1 certificates.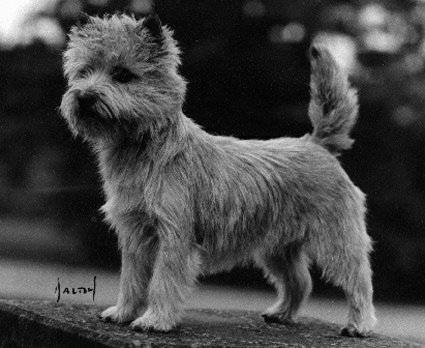 In August 1991, after careful planning Cairndy Kringle (10/8.1991-9/6.2005) was born. We were lucky that Helle & Peter made us the offer to purchase Kringle as they themselves kept her littermates Cairndy Kiksekage, Cairndy Krumme and Cairndy Klejne.
Kringle had an amazing show career as she finished as Danish champion in only three shows. At the following four club shows she won the certificates to complete as Danish Terrier Club Champion. By the end of 1993, at only two years, Kringle earned Bitch Of The Year and Cairn Of The Year #2. At the same time she was mother of her first litter. In 1994 Kringle again was Bitch Of The Year and Cairn of The Year #3. As said earlier Kringle was not only a fantastic show dog but also a marvelous breeding bitch giving us three wonderful litters!
Litter #1 born 04.12.1993, sired by ch Cairndy Luca Lorito, gave us four puppies. Among them are Cairn of The Year 2000 dkch estch plpzsg plsg96 balt.w..98 kbhv99 intch klbch plch euv2000 Zalazar Jackpot and dkch klbch intch Zalazar Jerry Hall.
Litter #2 born 30.07.1996, sired by ch Sensei's Voldsomme Viking , gave six puppies, dkch intch Zalazar Paradise Cocktail being one of them.
Litter #3 and last litter born 01.11.1997 sired by Fettercairn Joachim (Joachim was later U.S.A. Ch and top Cairn #9 in the U.S.A.) also gave us six puppies. From this litter came Zalazar Secret Wish and Zalazar Special Edition, both have won CAC's.


Kringle's strong bloodlines are also prevalent in the coming generations as seen in Jackpot's off spring: ch Zalazar Voodoo Magic, Cairn of The Year 2004, dkch klbch intch sch Nordcairn Imagine Me and her sister DKCH KLBCH Nordcairn's Imagine You plus CAC winners like Thestrup's Hotline Honey, Thestrup's Quickpot, Strandridder Betty Boop and Strandridder Benny Bomstærk. From Jackpot's vacation and "love affairs" in Finland came finjw03 estw04 rkfw05 balticw05 intch blrch rusch ltuch lvch baltic ch Golden Heros Hot Shot. Not to mention some of Jackpot's Champions in the U.S., like U.S.A. Ch Zalazar Koh-I-Noor & U.S.A. Ch Frigg´s Prinsesse Pepita both quickly gaining their titles shortly after being exported. Jackpot has also been awarded TERRIER STUD DOG OF THE YEAR by The Danish Terrier Club three times!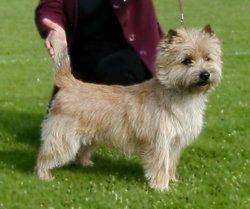 Zalazar Jerry Hall became a mother of three litters, among them Zalazar Rolls Royce who won 2 cac's before he moved to Germany where he became German Clubsieger and German Champion. From the last litter of Jerry Hall's comes Zalazar Ziggy Stardust, who soon finished as USA Championship and became father to YellowBrickRoad's Nut'n But Trouble who finished as champion only 11 months old, following soon after were Ch YellowBrickRoad's Teddy True Grit and Ch YellowBrickRoad's Xander! Both finished their titles as youngsters.
The puppies after dkch intch Zalazar Paradise Cocktail have also done quite well. From her first litter came U.S.A Ch Zalazar American Intruder and from her second litter came Zalazar Drop Dead Beautiful who became Hungarian & International Champion at only 2 1/2 years old! The puppies from her last litter are also looking very promising. The two boys: jgdch Zalazar iMac & Zalazar iPod, who live in Germany & France
From Zalazar Secret Wish we got two wonderful puppies both have done very well, Zalazar Ginger Spice (1cac) & Zalazar Grand Cru. Ginger Spice has had one litter where Zalazar Special Agent K9 was exported to Finland and Zalazar Secret Mission having been sold to the Czech Republic. Zalazar Grand Cru sired some beautiful litters before an injury required him to be neutered. He now lives a life of luxury at Gerda & Preben's house ;-)
Zalazar Special Edition had two litters before she moved to Cadagio kennels in Ireland. Her first litter was sired by dch klbsg00 Zalazar Rolls Royce aka "Rulle". This was the only litter ¨Rulle¨ sired in Denmark and was known as the ¨Question litter¨ ;-) From this litter comes Zalazar Who's That, mother of Nch Zalazar Headhunter now living at Kennel Cairndale in Norway. From a different litter came Zalazar Naja who will be the foundation of Cairns on Iceland.
The sire to Zalazar Special Edition's second litter was ch Tam O'shanters In the Nick Of Time. From this litter comes DKCH BWSG03 BESG04 FINCH DCH GBZCH INTCH LTCH LVCH LVW06 LUXCH ESTCH BALTTW06 BALTCH Zalazar Yahoo. Yahoo has had a fantastic show career thanks to Ghita Jensen for all her hard work and traveling around Europe! The litter sisters, dch Zalazar Yo-Yo & Zalazar Yummy-Yummy, mother of USA ch Zalazar Koh-I-Noor, the upcoming GBZCH, dkch Zalazar La Belle, Zalazar La Bonne and Zalazar Le Grand. La Belle was only 2 years when she finish her championship and La Bonne won BEST IN SHOW at National Club A.T.E. Championship Show in France on 13 months old !!!!
Sadly dkch Zalazar Voodoo Magic had a very short life, as she died at less than 5 years of age, from bone marrow cancer. She used her last vigor to bring up her beautiful puppies sired by gbch Birselaw Billy Fury.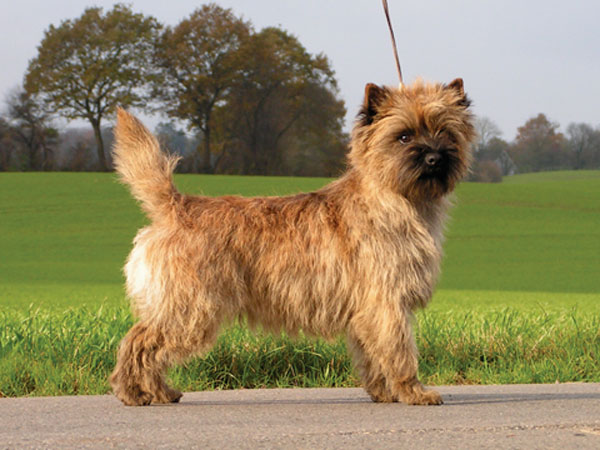 From that litter came U.S.A Ch. Zalazar On The Road (co-owned by Suzee Bidegain in the USA), Zalazar On The Rocks and dkch Zalazar On Parade, the later two are currently owned by us. Dkch Zalazar On Parade celebrated her championship at only 19 months of age winning BEST IN SHOW 2 at the Chantelou memorial show in Frederiksværk 6.5.2006. Zalazar on the Road also finished his American championship in style. At the Cairn Terrier Club of Southern California's Specialty Show, June 2006 held in Long Beach California under Judge Linda Firth, Kennel Cairngold, UK. Roadie was awarded Winners dog, Best of Winners & BOB, over top winning Specials, earning a 5 point major and his championship.