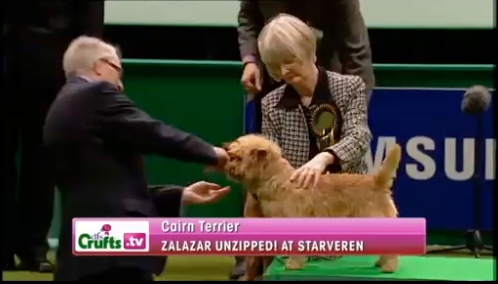 Zalazar Un Zipped! At Starveren
blev BIR på
Crufts 2010 i Birmingham, England.
Han fik sit 3. certifikat og blev dermed også
Engelsk Champion
. "Uzi" af ejet af Mary Middlehurst.



Zalazar Un Zipped! At Starveren

wins at

Crufts 2010 in Birmingham.


He also got his 3. CC and is now

English Champion

. "Uzi" is owned, handled & loved by Mary Middlehurst.



Judge: Sue Dolan, GB.
Entries: 165 Cairn Terriers
"Middlehurst's Zalazar Un Zipped! At Starveren (IMP DNK), red of excellent quality. Well proportioned head with a broad skull, wide bite and good teeth, good dark eye, straight front with strong feet and excellent bone, good length of neck flowing into clean shoulders, level topline which he kept on the move, tail well set.
Well balanced with a lovely outline. Moved with drive around the ring and never gave up showing. Immaculately presented. I judged this dog as a youngster and he has matured well. Delighted to award him Dog C.C. and B.O.B."