Stambog og udvalgte resultater for
ZALAZAR BEDÅRENDE BAS VIOLA f. 26.10.89
Årets Cairn Terrier Senior No.2 1997
Cairn Senior #2 of the Year 1997
Opdr: Mette Sørum, Ejer: Mette Sørum, Appevej 70, 5690 Tommerup
Zalazar Bedårende Bas Viola
26-10-1989
DKCH INTCH
Fettercairn Tot

Hestehavens Lasse
27-2-1977
DKCH
Twinlaw Benjamin

GBCH
Redletter Moonstruck,dgs
GBCH
Twinlaw Spring Song
Hestehavens Dine

DKCH
Enghusets Chap

Lille Dyreds Yrsa
Redletter Moon Drift

Manfred Of Redletter

GBCH
Bankfoot Devoran

Velora Maytime
GBCH
Redletter Moon Marcel

GBCH
Redletter Moon Tripper
GBCH
Redletter Marcel
Cairndy's Iltre Ida
17-12-1985
DKCH
Nero
31-10-1979
Kazan

DKCH KBHV81 INTCH
Crofters Dandy
DKCH INTCH
Dancairn Akita
Nelly


Budda

Dancairn Wamba
DKCH
Cairndy Columbine
19-5-1984
DKCH
Cairndy's Ønske

INTCH
Nico

Charliemoon Miss Moffat
Dancairn Evita


Snorrehus Peppy

Juvena
---
| | | | |
| --- | --- | --- | --- |
| 02.10.93 | JYDSK CAIRNSKUE | BERT HUNT, DK. | BIS 4 |
| 02.04.95 | DTK KREDS FYN | CARL BORCHORST, DK. | BIS 2 |
| 15.01.97 | DKK KREDS FYN | SV. LØVENKJÆR, DK. | BIS 3 SENIOR |
| 15.02.97 | KOLDING, DTK | E. BONS-DI WEVER, NL. | BIR SENIOR & BIS 3 SENIOR |
| 16.02.97 | FREDERICIA, DKK | DAVID ANDERSSON, IRL. | BIR SENIOR |
| 03.05.97 | VISSENBJERG, DKK | WALTER JUNGBLUT, D. | BIR SENIOR |
| 04.05.97 | SØNDERSØ, DTK | LILIAN BROWN, DK. | 2.V. SENIOR |
| 09.08.97 | HILLERØD, DTK JUBI. 70 ÅR | SHIRLEY WATSON, GB. | BIR SENIOR & BIS 1 SENIOR |
| 21.09.97 | FREDERIKSVÆRK, DTK | JIM POLLOCK, GB. | 2.V. SENIOR |
| 01.11.97 | HERNING, DKK | M. MICKLEWAITH, GB. | BIR SENIOR |
| 02.11.97 | SUNDS, DTK | THORSTEN HIMMRICH, D. | 2.V SENIOR |
| 03.11.98 | SUNDS, DTK | FRANK EDWARDS, GB. | 3.V SENIOR |
| 17.06.00 | FREDERIKSVÆRK, DTK | KATE O'HERLIHY, IRL | 2.V. VETERAN |
| 20.01.01 | MIDDELFART, DKK KREDS 3 | BIRTE STEFFENSEN, DK. | BIS 3 VETERAN |
Zalazar Bedårende Bas Viola endte udstillingssæsonen 1997 som Årets Cairn Terrier Senior No.2
med 5 x BIR Senior samt 8 x CK på 9 udstillinger.
Årets Cairn Terrier Senior No.1 blev DKCH Pitcairn's King Karrott med 10 x CK på 12 udstillinger.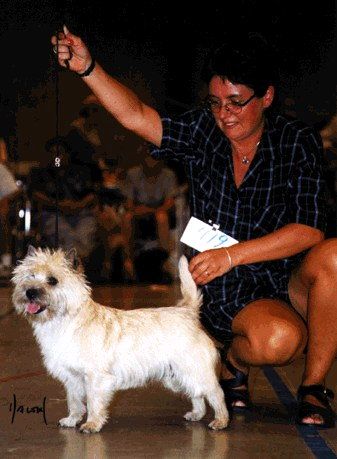 BEST IN SHOW SENIOR
PÅ DTK'S 70 ÅRS JUBILÆUMSUDSTILLING I HILLERØD 9.AUGUST 1997
Nedenunder kan ses nogle kritikker fra Scooter's senior- og veteran karriere:
17. Juni 2000 DTK Frederiksværk, Dommer: Kate O'Herlihy, Irland
"excellent bitch for 11 years, flyes around like a 2 year old, retains her keen expression and showing ability,
good quality harsh coat, it is a pleasure to go over her"
27. Maj 2000 Cairndysten Øst / Vest, Dommer: Ian Shaw, GB.
"good head and expression, moves well, happy showgirl, enjoying her day out"
7. November 1998 DTK Sunds, Dommer: Frank Edwards, GB.
"9 years old, pale cream, pleasing head and expression, good reach of neck, nicely angulated,
topline and tailset correct, good texture to coat, very active in movement"
1. November 1997 DKK Herning, Dommer: Mickelwaite, GB.
"well constructed, and a super movement, shows well, in a very nice condition, coat of good texture"
21. September 1997 DTK Frederiksværk, Dommer: Jim Pollock, GB.
"nice feminine head, excellent coat, very smart showgirl, starting to thicken through head and shoulders"
9. August 1997 DTK Hillerød, Dommer: Shirley Watson, GB.
"lovely make and shape, good straight front, good angulation, moved and showed very well"
4. Maj 1997 DTK Søndersø, Dommer: Lilian Brown, DK.
"herlig seniortæve, fuld af temperament, prima hoved med gode detaljer, særdeles god hals og skulder,
dyb krop af udmærket længde, godt bagparti, bevæger sig fortrinligt, super pels og kondition"
16. Februar 1997 DKK Fredericia, Dommer: David Andersson
"beautiful head, good neck and front, level topline, harsh coat, moved and showed well"
15. Februar 1997 DTK Kolding, Dommer: Bons de Wever, E.
"nice head and expression, correct body, good tailset, good coat,
very happy showgirl, good movement, but like a stronger stride"
3. November 1996 DKK Herning, Dommer: A. Livragi, I.
"very good condition for her age, good expression, perfect topline, moves like a train"